NEWS FLASH
Click HERE to see if Billy Stelly is still in Jail!
August 9, 2011
An update has been long overdue, but since Billy Stelly's incarceration and following felony aggregate theft conviction, I've had better things to do. But emails still trickle in occasionally so I felt the need to add an update. He was convicted. As travesties go, this one is no different. Apparent release date as given from the Texas Department of Criminal Justice is 1-21-2012. That seems to be how long a 6 year sentence lasts these days. Below is the letter I received from the Harris County District Attorney's Office after his conviction. Everyone should learn from this lesson and prepare themselves on his release; I'm sure it will be interesting.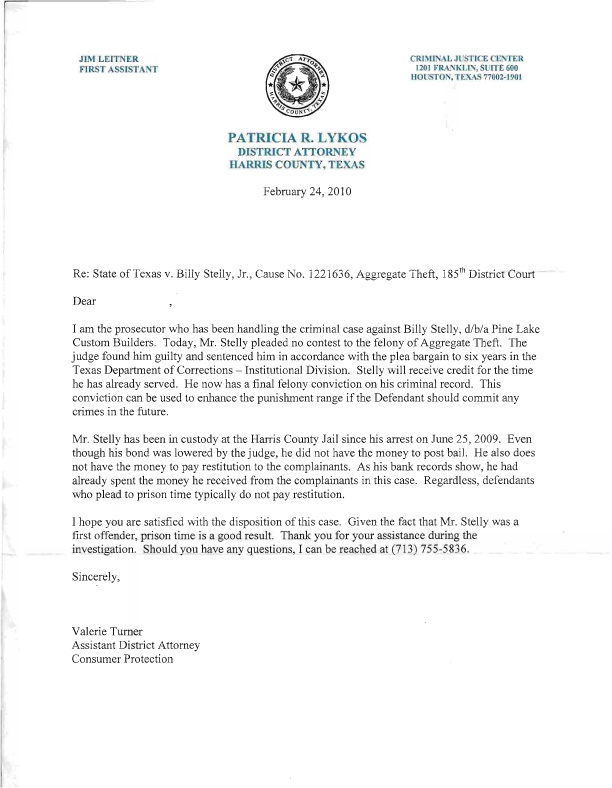 Click Below to see an expanded PDF
October 9, 2009
Still in Jail! Looks like Mr. Stelly has been unsucessful in recruiting any new "investors" and has had none of his previous "investors" bail him out of jail- where he continues to spend his days.
October 4, 2009
Tenative dates announced. February 23, 2009 is set as the pre-trial confrence date and jury trial is set for March 29th, 2009 !
August 4, 2009
Good news! Billy Stelly Jr. continues in jail! Apparently no one will put up money to meet his bond. His second court date has been set to Aug 26, 2009. This is not his hearing date, just another court date where he and his lawyer will go in front of the judge and narrow down the actual trial date. Updates will be made as they become available.
June 4, 2009
Billy Stelly Jr. is in JAIL!! He was recently indicted on Aggregate Theft of over $200,000; a 1st degree State Jail Felony offense and is spending his 4th of July comfortably covered in a fanshionable orange jumpsuit. He was placed in jail on June 25, 2009 (6/25/09). The wheels of justice grind slowely but they grind exceedingly fine! Thanks to everyone who constantly sent updates and information which I continually forwarded to the Harris County DA. His bond was set at $150,000, and I'm not sure if he's found a sucker to come up with the $15,000 to get him out(doubtful), but I will update this week when I have the opportunity to talk with the DA. Below is the pdf from the Harris County Sherrif's Office. Feel free to visit them [here]and enter Last name: Stelly, First Name: Billy to reveal your prize.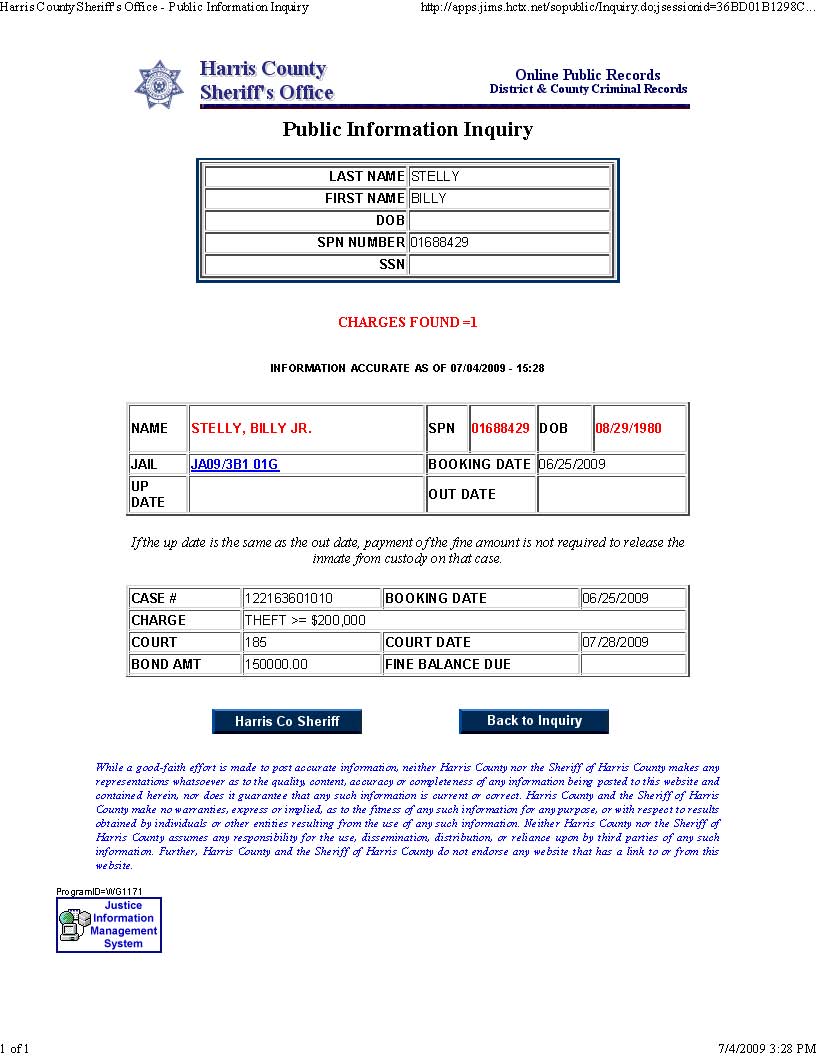 Beware of Billy Stelly aka Caimen Magdiel. The following is all information from innocent people defrauded and scammed out of what is turning out to be millions of dollars (yes, that much). Beware his postings on Craigslist.com and Backpage.com advertising untrue job and investment opportunities.
His most common hook are job postings (example included below). If you go to this "job opportunity" you will meet Caimen Magdiel AKA Billy Stelly Jr. He uses Caimen Magdiel as his name so that you don't know who he really is. And who is he? This so called real estate and exotic car investor will scam you into looking for investors (usually your friends and family) and take $25,000 consultation fees from you to put you on real estate opportunities that never happen.
He will attempt to get you personal lines of credit and business lines of credit supposedly to cover all costs to these projects but he will simply take your money and never put you on a project because there are none.
He'll show you earnest money contracts on real property, but he will never close on them. If you see him, look at the consultation contract he makes his investors sign (example included below). It says that he will give you your money back if you are not approved for a construction loan or if you and the builder (that's Caimen) do not agree on the line item budget costs. The catch is that if he never lets you apply for a construction loan and never gives you a line item cost breakdown, he's well within his rights of not returning your consultation fee. Also, be careful to read that the projects start within 90 days of your construction loan approval, which never happens.
Some of these details have probably changed since the last person he scammed, but this guy owes literally over a hundred people a total of millions of dollars. He's been doing this for years, and he is really good at it. Watch how fast he'll take you money too.
Don't be fooled by his expensive cars and his extravagant lifestyle, it's at the expensive of hard working people like you who are sold into an idea that never materializes. If you want to know more about this low life, contact Warren E. Matchette, Fraud Examiner for the District Attorney Of Harris County, Texas at 713-755-5836 and discover all the harm he has done to hard working individuals.
BE CAREFUL!
And continue reading below for a closer look at his con and the actual letter the Harris County District Attorney is sending out to "investors"!